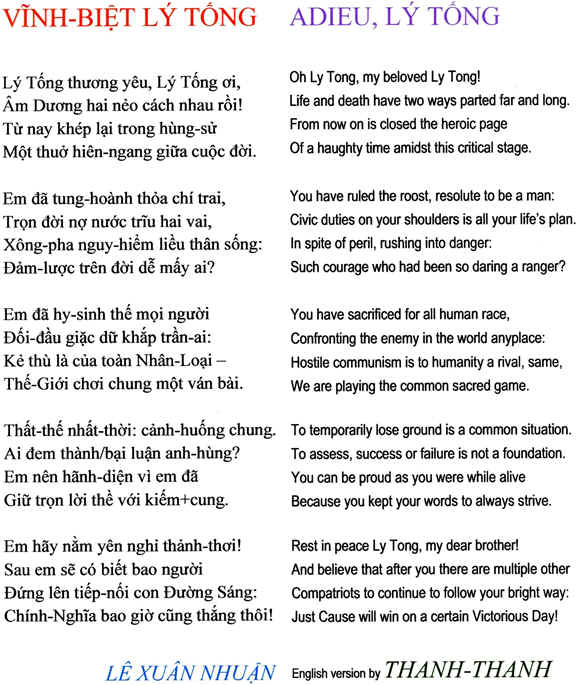 Vĩnh-biỆt LÝ TỐNG
5 Tháng Tư 2019
Lý Tống thương yêu, Lý Tống ơi,
Âm Dương hai nẻo cách nhau rồi!
Từ nay khép lại trong hùng-sử
Một thuở hiên-ngang giữa cuộc đời.
Em đã tung-hoành thỏa chí trai,
Trọn đời nợ nước trĩu hai vai,
Xông-pha nguy-hiểm liều thân sống:
Đảm-lược trên đời dễ mấy ai?
Em đã hy-sinh thế mọi người
Đối-đầu giặc dữ khắp trần-ai:
Kẻ thù là của toàn Nhân-Loại –
Thế-Giới chơi chung một ván bài.
Thất-thế nhất-thời: cảnh-huống chung.
Ai đem thành/bại luận anh-hùng?
Em nên hãnh-diện vì em đã
Giữ trọn lời thề với kiếm+cung.
Em hãy nằm yên nghỉ thảnh-thơi!
Sau em sẽ có biết bao người
Đứng lên tiếp-nối con Đường Sáng:
Chính-Nghĩa bao giờ cũng thắng thôi!
LÊ XUÂN NHUẬN
adieu, lý tỐng
5 April 2019
Oh Ly Tong, my beloved Ly Tong!
Life and death have two ways parted far and long.
From now on is closed the heroic page
Of a haughty time amidst this critical stage.
You have ruled the roost, resolute to be a man:
Civic duties on your shoulders is all your life's plan.
In spite of peril, rushing into danger:
Such courage who had been so daring a ranger?
You have sacrificed for all human race,
Confronting the enemy in the world anyplace:
Hostile communism is to humanity a rival, same,
We are playing the common sacred game.
To temporarily lose ground is a common situation.
To assess, success or failure is not a foundation.
You can be proud as you were while alive
Because you kept your words to always strive.
Rest in peace Ly Tong, my dear brother!
And believe that after you there are multiple other
Compatriots to continue to follow your bright way:
Just Cause will win on a certain Victorious Day!
English version by THANH-THANH